the new home for the bassnectar universe & beyond
THE NEW HOME FOR
THE BASSNECTAR
UNIVERSE & BEYOND
Our team is building the
ultimate immersive art gallery for
The Bassnectar Community
to enjoy and explore.
We'll be unleashing the motherload: every song, every remix, every mixtape, every video, and every work of art released to date – all in one special place.
For those who want the full experience, our "UNLOCKED" Membership Program will provide exclusive access to unreleased material, behind-the-scenes content, live events, and so much more.
While we are still weeks away from launching The Other Side, this portal offers a glimpse of what's in store.
If you want to join "UNLOCKED" early, we're offering an early bird discount – plus you can instantly unlock songs off the new Bassnectar album "The Golden Rule" months before it's released, and participate in the Bassnectar Community on Discord.
We know you're
out there…
we can feel you
Every single month, over one million people listen to Bassnectar on Spotify alone. We decided to build a central space for our community to experience new music and the future of Bassnectar culture; with kindness and wellbeing at the core. The Bass Network Team is dedicated to nurturing a vibrant interactive sanctuary and will be moderating all live events on The Other Side, as well as our Community Haven on Discord to ensure everyone who participates is friendly and treats you like family.
The Other Side is a comprehensive amalgamation of everything Bassnectar to date… all compiled in one central place for our community.
Membership is simple and free if you wish, although our team of wizards and nerds have developed a fully maxed out option, jam packed with exclusive unreleased content, known as the "UNLOCKED" membership program.
This is your year-long season pass to EVERYTHING on The Other Side. Exclusive access to tickets, new music, behind-the-scenes content, the Bassnectar Community discord, and all T.O.S. live events.
Freestyle Members enjoy free access to The Other Side, except for the new/exclusive content, access to tickets, live events, and the Bassnectar Community Discord.  Sign up now, and unlock one unreleased song off the forthcoming Bassnectar album "The Golden Rule".
ALL TICKETS TO BASSNECTAR CURATED EVENTS IN 2023 WILL BE AVAILABLE ONLY TO UNLOCKED MEMBERS & A GUEST OF THEIR CHOICE.
THE NEW BASSNECTAR ALBUM THE GOLDEN RULE
OFFICIAL RELEASE SPRING 2023
All 15 brand new Bassnectar songs will be released everywhere Spring 2023. "UNLOCKED" Members and early birds can access the music months before it's released to the public, including the first 5 songs immediately upon joining.
The Other Side will feature every album released on Amorphous Music to date. We'll be uploading alternate songs, demos, remixes, special extended versions, and even some experimental taste tests so ready thy ear drums…
Listen to every single Bassnectar mixtape, including old tape recordings from the turn of the millennium, live full moon dj sets, and a new Live Mixtape Event premiering every month. Plus gobs and gobs of brand new material, and old school turntable sets – all available to "UNLOCKED" members only.
RELIVE ANOTHER LIVE SET EVERY MONTH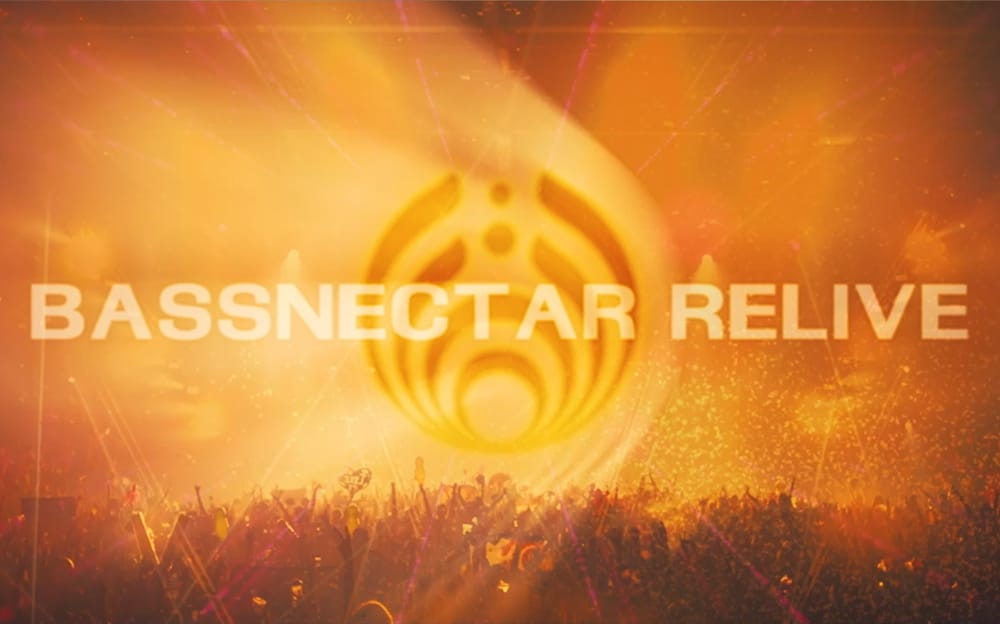 Each month for UNLOCKED members, we'll be hosting a live event on The Other Side to livestream a work of art together at the same time, in the same moment.
We'll travel back in time to watch Bassnectar shows from the past, filmed by the crew from the soundboard, with line-in audio, and never-before-seen live footage.
We will be featuring new artists each month – tune in for new material, in depth conversations, and connect with new creative minds.
"UNLOCKED" Members can explore cutting room floor: a MASSIVE archive of behind-the-scenes content, unreleased material – even current works in progress. Creativity Rooms will be unlocked for you to collaborate, interact, share project files, directly with Bassnectar, or if you wish: Various Bassnectar team members, fellow production geeks, collaborators, and friends. We will constantly launch collaborative projects, choose your own adventure events, and more.
In addition to the unreleased Bassnectar album, "The Golden Rule", UNLOCKED Members will be able to access hundreds of exclusive edits and remixes from Bassnectar sets, custom cut loops, special remasters and flips FROM THE VAULTS – as they emerge.
Brand new mixtapes, never-before-released live sets, and unfinished ideas.
Tons of Bassnectar side projects like West Coast Lo Fi, Locoqueen, ZF Mudra, Equipoise, and more – not to mention full scale releases from Amorphous Music artists like Dorfex Bos, Naux Faux, Gnar Gnar, Inoni, Figure8 and more.
Also stay tuned for remastered re-releases of Mesmerizing The Ultra, Underground Communication, Cozza Frenzy, All Colors, and a literal bevy of random old school material.
PLUS:
Incoming 2023 The Bassnectar EP "No Colors" – we ain't got time to get into the details here, so just picture an overwhelming amount of content pleasuring your eardrums in the future.
"UNLOCKED" Members will be given a set of "special keys" each month that will unlock various rooms within The Other Side; including rare sound projects, hidden radio broadcasts, and a monthly release of mixtapes.
Like everything on T.O.S., we are building this live, from scratch, so as we enter the future expect more and more surprises, twists, and upgrades to all these features of Underground Communication.
It is important to us that everyone feels safe and free to interact within our community of celebration. "UNLOCKED" Members will be given a user profile to access all discussion rooms, attend workshops and discussions, and connect with each other in a sanctuary built by bass heads who love you. Explore Artist Spotlights, Charity projects, Interactive Q&A, as well as in-depth conversations (like little artistic podcasts) with friends and collaborators.
As soon as you sign up for the "UNLOCKED" Program, you'll be greeted by a designated host, who can guide you around The Other Side, and make sure you feel right at home 🙂
Join the
Bassnectar community
live & direct!!
You must be an "UNLOCKED"
Member to enter
We are building community together, right now!
Join us and get involved
NOTE FROM ERIC AND THE OTHER SIDE TEAM
Every corner of The Other Side is coming to you live the moment it is created by our team of enthusiastic designers. This entire project is unfiltered and interactive and experimental, and built for you to participate as much as you wish. Special keys to unlock various doorways & gates to discover hidden treasure are placed throughout for you to find and win keys which you can use keys to unlock them.
Since this is being created live – in the moment! – expect as many glitches and hiccups as possible and anytime you find one, simply share it with ERIC to win more keys.
We are building this for YOU & really appreciate any feedback you will share with us.
1. What is The Other Side?
Brief answer: The Other Side is a brand new concept to bridge artists and community off grid of social media, an underground broadcasting channel for full-spectrum creative content, an interactive art gallery, a culture label, and a membership-based subscription service to entire universe of Bassnectar, Amorphous Music, and beyond.
2. What is The Portal?
Brief answer: The Other Side has been in development for over two years, and is an immense undertaking. In order to bring it forward as quickly as possible we launched The Portal as essentially an announcement of what's to come, and provided a presale to the membership programs for early bird fanatics who wanted a discount, as well as early access to exclusive unreleased content.
3. I've joined as a member, so now what?
Thank you! Over the coming weeks while we finish up The Other Side v1, it's the calm before the storm. If you joined the Unlocked Program, your membership has not begun officially, and will last an entire year once The Other Side launches in full effect. Until then, please enjoy some content, please share your ideas with us, we love hearing from you! If you are a Freestyle Member, you can listen to one unreleased song off the new album, plus a mixtape, although much more is in store for you once we launch! Most important is that during this time, we are going to premier an episode of RELIVE for all members, Freestyle included!
4. How do I watch Relive?
Once The Other Side launches, and once the Unlocked Membership commences, members will be able to join a live T.O.S. event each month for an exclusive episode of RELIVE - the first season is 12 episodes.
However, we are launching the world premier Feb 5th @ 6pm PST for everyone, so if you are a Freestyle Member this is for you!!!! This will be the only RELIVE experience available to Freestyle members, so please be sure to plan ahead. In order to avoid technical issues with the live broadcast, we are building a virtual arena to accommodate 50,000 attendees, and will be announcing details for an RSVP system next week.
5. Who is on the team? Who is writing the emails and making posts?
Our team is robust, but also expanding constantly. While Lorin curates/creates/handles all of the content creation, he also has been working to design video games, customized sections of The Other Side, and expand Amorphous Music into an omni- genre culture label for all forms of art and imagination, to promote and collaborate with artists across platforms. As usual, he writes most of the announcements and transmissions, but currently we have several people on staff who handle communications, and several others who provide technical support.
If you contact Bass Network, expect to hear from Kate or one of her dozen lead moderators from the Bass Network Team (BNTM). If you contact The Other Side, expect to talk to Eric or others on his dev team. For press, we have a communications group directed by Kate, Samantha, and Auberon.
6. What are the discount codes, how does it work?
We will be using a complex system of promotional codes and gift codes in the future. Our first offer was $100 merch credit for early birds who purchased the Unlocked Membership. Those have all been given away, and several thousand people have received confirmation via email. Soon we will add in-app messaging to make this easier, but if you didn't get an email and you are an Unlocked Member, please check your spam folder. If you did not receive a confirmation email it likely means you did not qualify for the discount code, but if you sense that is an error, please
message support
and we'll be happy to help.
7. Is there a customer service email?
Our
customer service department
can be reached by clicking the help icon in the bottom right of your screen. Please contact us with any account issues. We did not expect the high level of traffic we have received (THANK YOU!) and in addition to shutting down the site many times, we have realized we need to drastically staff up our customer service department. That is happening this week. In the meantime, there may be a slight delay in response while we build up our team to catch up with demand. Thank you for you patience.
8. Will there be live events in person, in real life?
Yes, although it's not our focus yet. The Other Side will host many live events for Unlocked Members this year, but for in- person events, expect the unexpected. Lorin has not revealed many details yet, but what is clear is he's not interested in 'performing' or being on a 'stage' and he is focused on in person events which are immersive, intimate, and interactive... so think wild dance party meets 1990's full moon party meets a house party meets a Bassnectar curated event meets Deja Voom meets ?????????????

One thing for sure is when these events go on sale, tickets will be available only to Unlocked Members and a guest of their choice. Attendance will be limited to Unlocked Members and a guest of their choice. All attendees will be carefully vetted to ensure our guests are in total compliance with our community values of kindness, compassion, empathy, wellbeing, and respect.
9. What is "The Golden Rule"? When is it coming out?
Over the last several years Lorin has been hyper active in the studio, completing enough content for 2 full length Bassnectar albums, a new Naux Faux EP, and countless side projects. Most notably is the ZF Mudra project which is pretty much a fusion of black metal and death metal influenced garage band style mayhem, and Equipoise which is, for lack of a better word, live ambient music.
Additionally Lorin has been working full time producing other artists, teaching Ableton lessons, coordinating charity projects for Bass Network, and planning the underground radio station for The Other Side. Unlocked Members will get at least one new mixtape per month, and there will be many new treasures released.
Also, as we expand Amorphous Music from a small independent record label to an unlimited culture label, we have been curating visual artists, game designers, tattoo artists, dancers, dance instructors, fashion designers, and producers of all forms of art. There is *A LOT* in the making, so stay tuned.
10. I'm a member, is there a way to access the content direct without scrolling through the portal?
YES, an update is in the works. Also, we have several updates coming next month like improved interfaces for content players, launching the new Locoqueen App, and much more.